Some people may find it hard to complete daily tasks as they age. With little or no help at home, taking care of yourself can be difficult.
However, home care is an excellent option for people to receive help at home. Many people think that home care only consists of health care assistance. However, you can receive help with daily tasks.
At WellSpring Home Health, you can receive at-home care specialized to you. You can receive both with home care if you have medical or daily needs. So, how can you get help with personal care? In this blog, you'll learn what kind of services you can receive and how to qualify.
Are you interested in what services you qualify for? Contact us today to learn more! 
What Is Home Care?
Home care consists of unskilled or skilled services. Unskilled services provide you with personal care that will help you daily. Skilled services include the medical care that someone might need, including:
Skilled nurse or registered nurse for help with medication management, pain management, chronic condition management, post-surgical care, and more.
Physical therapy to help with movement and join analysis, coordination and balance training, mobility assistance, pain management, massage therapy, and more.
Speech therapy for people that have difficulty feeding, swallowing, and speaking.
Occupational therapy to help you with hazard awareness and injury protection, development of specialized exercise programs, balance training, and more.
Medical social work will help you organize what kind of services you may need and how to pay for them.
A home health aide or certified nurse assistant (CNA) will help you with personal care and hygiene, mobility, medication management, emotional support, and more.
Some people who receive skilled services need help with daily tasks. Medical social workers can help you organize which services you need and how to get them.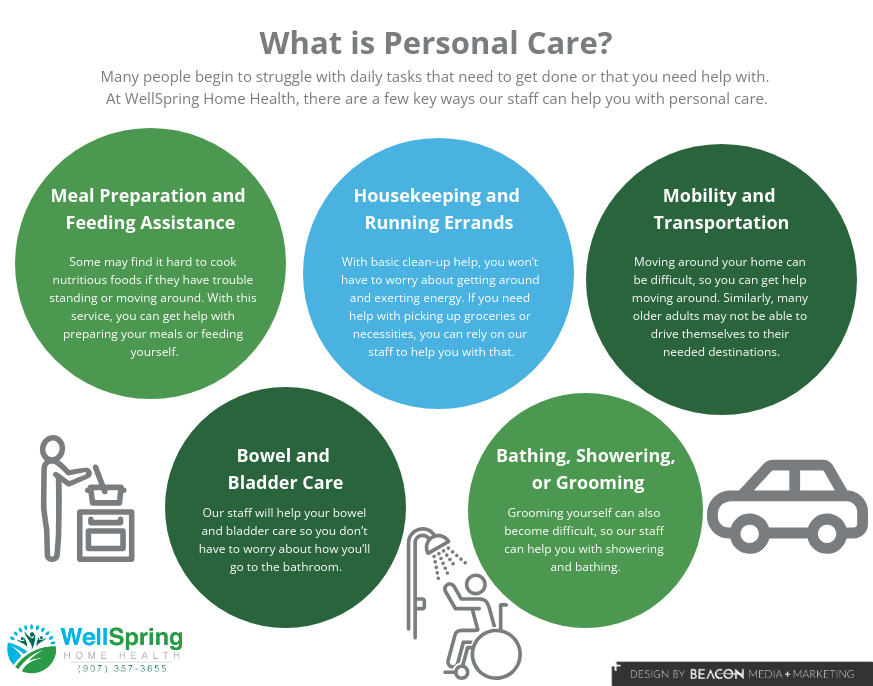 How Unskilled Services Can Help You With Personal Care
Unskilled services include nonmedical help. Many people begin to struggle with daily tasks that need to get done or that you need help with. At WellSpring Home Health, there are a few key ways our staff can help you with personal care. 
Meal Preparation and Feeding Assistance
Some may find it hard to cook nutritious foods if they have trouble standing or moving around. With this service, you can get help with preparing your meals.
We also offer feeding assistance. Sometimes feeding yourself can become difficult if you have trouble chewing or swallowing. It can also become hard to feed yourself if you find it challenging using your hands due to a medical condition.
Housekeeping and Running Errands
Getting around your house can be hard enough. With our help, you can be happy knowing that your home is clean. With basic clean-up help, you won't have to worry about getting around and exerting energy.
It can be just as challenging to get around town to run errands. If you need help with picking up groceries or necessities, you can rely on our staff to help you with that.
Mobility and Transportation
Moving around your home can be difficult, so you can get help moving around. Similarly, many older adults may not be able to drive themselves to their needed destinations.
We offer transportation help so you can get to doctor appointments or to the store without much worry. You won't need to endanger yourself or others by driving when you can let us help you.
Bowel and Bladder Care
We will help you if you have trouble going to the bathroom. This can be getting to the bathroom or even having difficulty with going. Our staff will help your bowel and bladder care so you don't have to worry about how you'll go to the bathroom.
Bathing, Showering, or Grooming
Similarly, getting yourself cleaned in a shower or bath can be difficult. Showering can be difficult if you have trouble standing for long periods. While bathing can become hard if you have trouble getting in and out of the bath. Grooming yourself can also become difficult, so our staff can help you with it all. 
Want to know more about how we can pair skilled and unskilled services together? Contact us today to learn more!
How To Qualify For Home Health
The first step in qualifying for home care is to receive a referral from your primary care physician. This will help us understand what kind of services you need. Once you have that, we'll speak with your doctor to create a personalized plan for you.
We also care about your family and your input. So, we will make a home visit and talk with you about the specifics of your at-home needs.
One of the more significant factors that we consider is if you are "homebound." This means that you are unable to leave your home without the assistance of another person or unable to leave without considerable and taxing effort that compromises your health. This is when unskilled services are an excellent help for running errands and transportation.
We will also consider your health history to understand all of your medical conditions better. It will help guide us in choosing which services can greatly benefit you.
At WellSpring Home Health, we provide services for older adults, pediatrics, veterans, and surviving veteran spouses.
How To Pay For Home Care Services
Once you've been approved for home care services, it's time to talk to your insurance provider. There are multiple options for covering the costs of your home care.
At WellSpring Home Health, we work with many insurances providers to get the care you need, including Medicare, Medicaid, Tri-Care, VA/ Tri-West, Workers' Compensation, and private pay options. If you have Medicare, your skilled services will be 100% covered. Talking with your provider can help you find with benefits you qualify for.
Each provider has different coverage, so it's crucial to check your insurance policy to look at your co-pays and deductibles. If you are worried about the paperwork and organizing everything, we have medical social workers that can help you organize your finances, services, and can provide emotional support through the process. You can contact our office if you have any questions about our billing services.
Why Should You Choose WellSpring Home Health?
Home care is a great way to benefit in the comfort of your own home. You'll still have the flexibility of an independent life while receiving great help.
At WellSpring Home Health, we are dedicated to ensuring quality care in the security and comfort of your own home. We offer personalized services in Wasilla, Anchorage, and Tacoma. If you need 24-hour complex care or weekly visits, we'll work with you to create a schedule that benefits everyone.
We have two fundamental philosophies that we base our care on. First, each person has innate worth no matter their health, age, race, color, creed, gender, sexual orientation, or national origin. Second, we believe that each person is entitled to maximize their potential, enjoy the quality of their life, and maximize their potential. We treat each patient like their a part of the family.
No matter if you or your loved one need skilled or unskilled services, we'll be there to help. With our several resource options, we'll ensure that you get the quality care you deserve in an easy and non-stressful way.
Ready to receive personalized care at home? Contact us to get started today!